5L Lab Chemical Jacketed Glass Reactor with Ring Baffles and PTFE Lid
---
HJLab Benchtop Reactor is built for top performance at lab-scale and has been engineered to provide a great user experience.

The superior reaction performance is delivered via the unique Ring Baffle for the thermal jacket. This provides a quick and efficient thermal exchange between the process and thermal source.

Other notable performance factors are a wide process temperature range, high thermal shock resistance and vessel geometry similar to industrial vessels.

Our Benchtop Reactor is a compact system with interchangeable vessels (300ml to 5L) and is suitable for placing in a fume hood. Various vessel options and accessories allow you to choose exactly what you need for your process.
---
Fast achievement of reaction set-point temperature
Reduced energy consumption
Interchangeable vessels (300mL to 5L)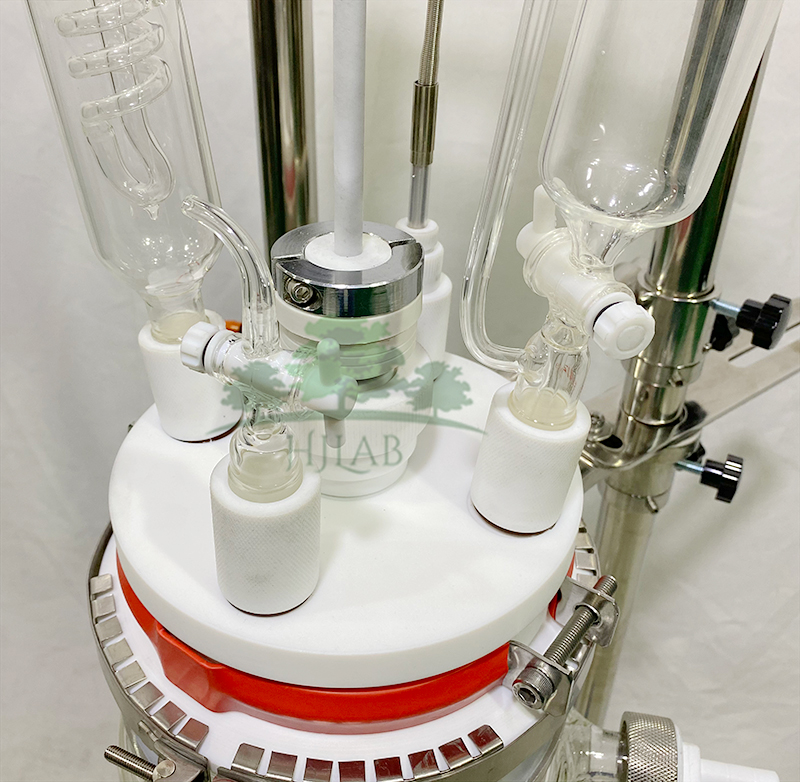 ---
Item

Details

Glass Materials

High Borosilicate Glass 3.3

Wetted Parts

Glass and PTFE

Reaction Vessel Capacity

300ml, 500ml, 1L, 2L, 3L and 5L

Thermal Jacket

Ring Baffles within the Thermal Jacket

Stirring Motor

DC Brushless Motor, 50W, 100W, 150W

Stirring Range: 50 ~ 2200 RPM

Realtime Display:

1) Current Stirring Speed

2) Set Stirring Speed

3) Timer

3) Materials Temperature

4) Torque

RS485 Communication

Mixing Sealing

PTFE + Mechanical

Condenser

Cooling Coil Condenser

Dropping Feeding Funnel

Dropping Feeding Funnel with PTFE Metering Valve and Equalizing Arm

Glass/PTFE Lid

5 Openings:

1) Dropping Feeding Funnel: 24/40

2) Pressure Release (or Round-Top Funnel): 24/40

3) Materials Temperature Probe: 24/40

4) Condenser: 24/40

5) Stirring: 50# (Flange) or 29/42

Stirring Impeller

PTFE Anchor Type

PTFE Pitched Paddle Type

PTFE Frame Type

Operating Temperature

-90℃ to +230℃

ΔT - Thermal Shock Resistance

90℃ (Double Wall), 60℃ (Triple Wall)

Operating Pressure

Full Vacuum to Atmospheric Pressure

Operating Jacket Pressure

Up to +0.5 bar (0.05 MPa)

Power Supply

100V ~ 240V, 50Hz/60Hz
---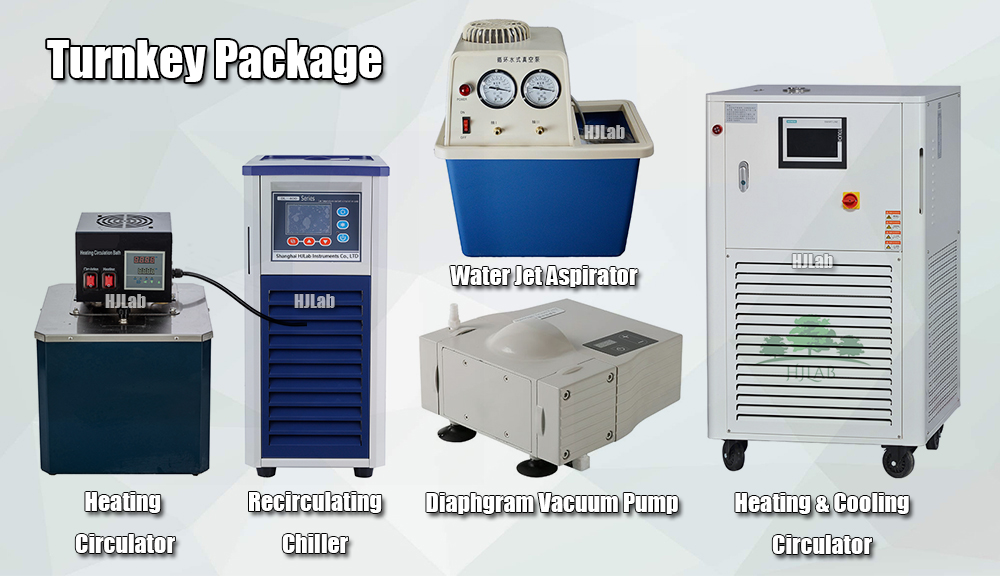 ---
At HJLab, we can help you to find the best solution for you. If you have additional requirements or a design already in mind, feel free to send us a message and/or drawing so that we can understand your process better and provide you with a customized product that meets your exact needs.